This week's podcast features Deborah Dietzler, Executive Director of Campaign Engagement for the University of Georgia's Development Office.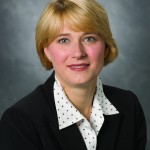 Deborah provided leadership to UGA's Alumni Association for 17 years. Prior to her arrival at UGA, she was the Director of Alumni Services at Teachers College, Columbia University and Director of Alumni Affairs at Stony Brook University.
Topics discussed in this podcast episode include:
Engaging donors through alumni relationsCultivating students as future, engaged alumniThe age of social media and reconnecting with graduatesMail correspondence and the initial donation stigmaEffective programs and initiatives utilized by the UGA Alumni Association
About our guest
Deborah holds a BA in English from Hofstra University and an MS in marketing from Texas A&M and is currently pursuing her doctorate in higher education. As a member of Athens Rotary, Deborah serves as the faculty advisor to the UGA chapter of Rotaract. She is a sustaining member of the Junior League of Athens, where she served as president from 2004-2005. She also serves on the Athens-area Habitat for Humanity Board of Directors. Follow Deborah on Twitter at @dietzler.