Earlier this month, Lighthouse Counsel President Jeff Jowdy and I spoke at the Giving Institute fall meeting. The Giving Institute is the professional association of top ethical for-profits that help nonprofits fundraise. It is the sister organization of The Giving USA Foundation.
The meeting included great educational sessions, many from the Mentor Series designed to train newer fundraising consultants, that we've distilled here to help you supercharge your fundraising.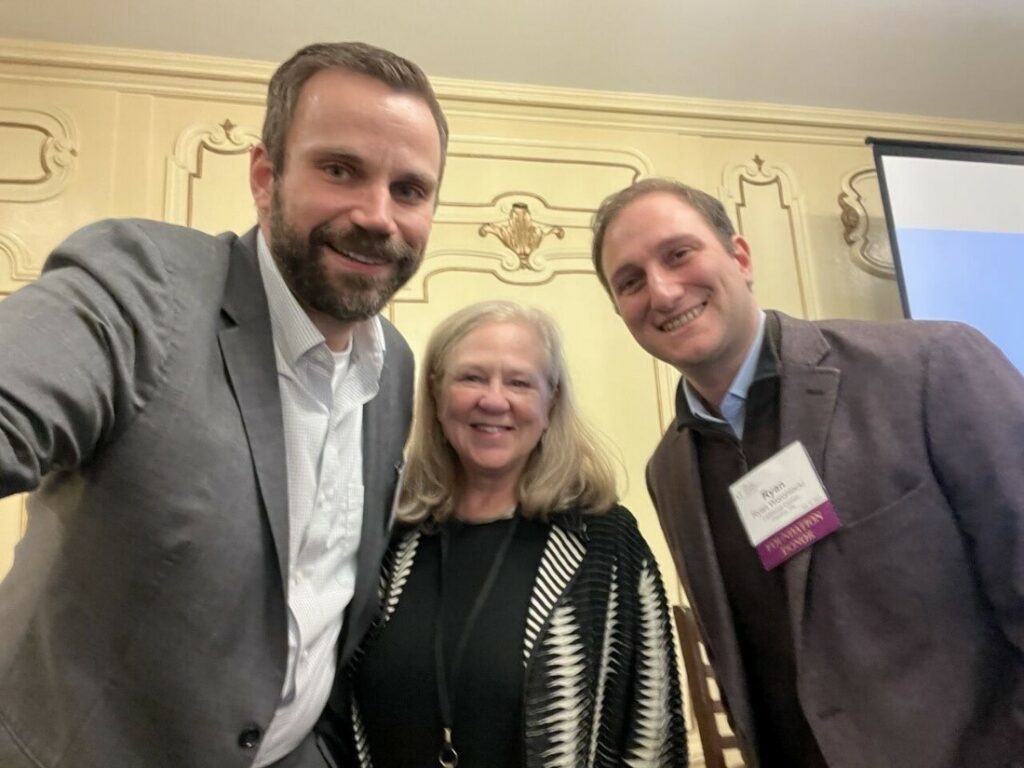 Information Fundraisers Need
I hosted the panel discussion, "What Information Fundraisers Need" with Erik Tomalis (above at left) of Virtuous and Karen Rotko-Wynn (center) of The Alford Group.
The big takeaway; different fundraisers need to focus on different metrics. For example, a major gift officer should track the number of qualification meetings while the director of the annual fund should track which channels donors use. Modern CRM and other fundraising technology make it easier than ever to access lots of data. But how do we focus on the data points that matter? Every organization should be focused on these three data points to have a healthy understanding of its generosity revenue stream:
Donor Retention Rate – This is the percentage of donors who gave last year and who also gave this year. Adrian Seargent's research shows small increases to donor retention can significantly increase year-over-year revenue. Thanks to the Fundraising Effectiveness Project, we know the national average for donor retention in 2021 was 44.1% and, historically, first-time donor retention hovers around 20%. If you aren't currently tracking donor retention, it's time to start.
Donor Distribution – We all know most organizations don't have the ideal donor pyramid, but what does yours look like? It's important to know how many supporters you have at what levels and how that changes year over year. Most major donors don't start there. They move up the giving pyramid over time. If 99% of your donors give less than $500, you can target some to move up to the $1,000 level, but it's unlikely you will see substantial growth in your $50,000+ donor count. Once you know what your pyramid looks like, you can build out growth plans. Many higher education organizations start focusing on $1,000+ donors or leadership annual giving. If your organization has named giving levels, you should use those to track donor counts. If you don't, start tracking the number of donors between the following ranges:
$50,000+
$25,000 – $49,999
$10,000 – $24,999
$5,000 – $9,999
$1,000 – $4,999
$500 – $999
$499 and below
Reactivated Donors – These are donors who gave this year and in previous years but not last year. It's expensive to acquire a new donor! It's much less expensive to reactivate a lapsed one. They know your mission and supported you before. You might even know why they gave before and could use that in outreach. When you analyze reactivated donors, you want to track:
Reactivation Channel – email, USPS, phone, digital?
Average gift size – You could divide the dollars from reactivated donors or use the median to remove outliers.
Proportion – What percentage of total donors are reactivated donors? If reactivated donors are a high proportion of total donors, there are or were likely problems with donor communications or stewardship, and you'll want to survey donors to find out what was broken and how to fix it.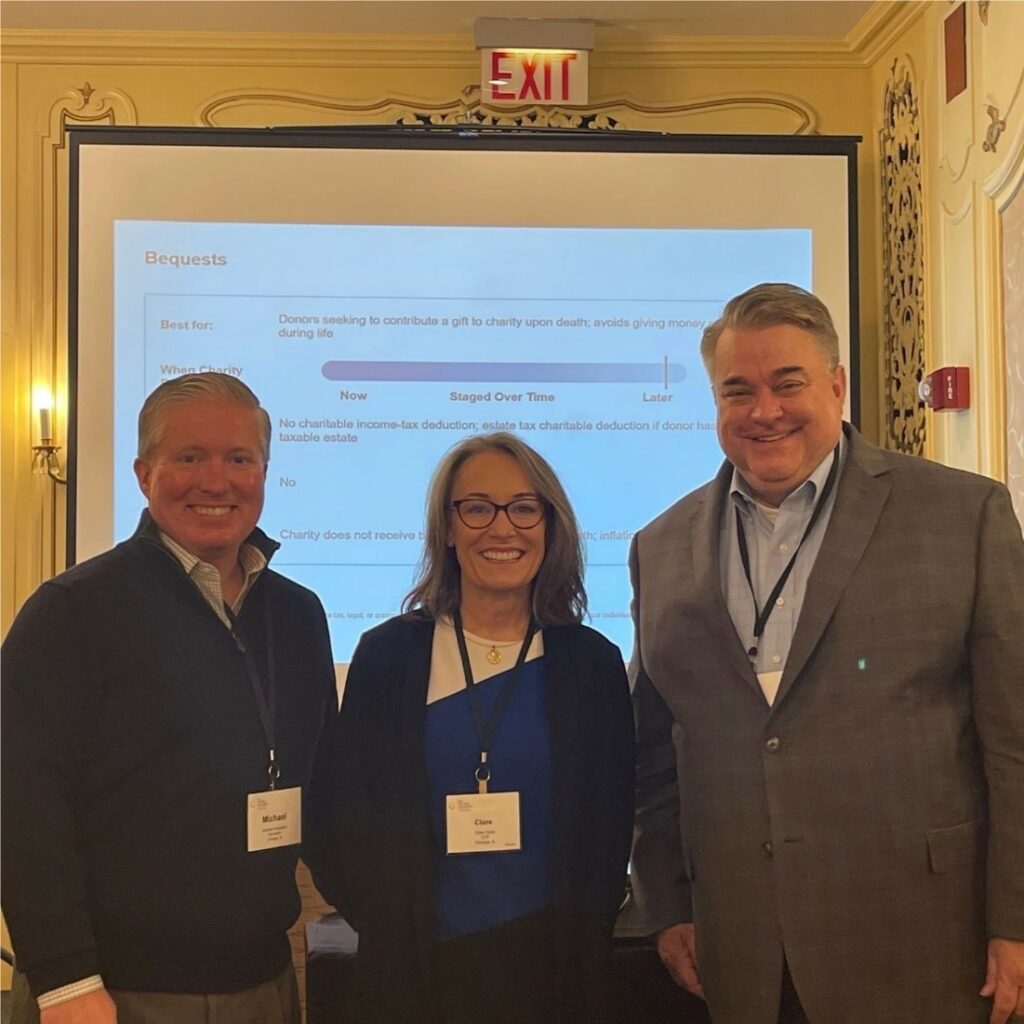 Economic Outlook: Implications for Philanthropy
Lighthouse Counsel partners Clare Golla and Michael Heneghan (pictured here left to right with Jeff) of Bernstein shared insights on factors impacting the economy today, how that may affect the market in the future and what that means for our donors.
Raising interest rates – The fed increases interest rates to reduce inflation, which is a decrease in the buying power of the U.S. dollar. Whenever the fed increases interest rates, it takes at least six months to determine the impact; more complex things such as the price of real estate could take nine to 12 months for the impact of raising interest rates to take full effect.
Recession – This is the scary "R" word. Many of us remember the difficult recession of 2008 brought on by the collapse of the housing market where the financial sector was heavily leveraged in the sector (housing) that collapsed. We can't predict if a recession is around the corner but, if it is, it will be a federally induced recession from raising interest rates. These recessions are quicker and less volatile because, unlike the 2008 recession, financial institutions won't suffer the same losses and can reinvest where they see fit.
International Economy – There are many factors underlying not just the U.S. economy, but other countries' economies that have and will continue to have an impact our own. Below are a few topics that keep coming up in the news:
Sanctions on Russia – Most of the sanctions on Russia that will affect the global economy already have been implemented. We aren't likely to see many sanctions change regardless of what happens in Ukraine. We still don't know the full impact, but we know what Russian companies aren't going to do business in the U.S., Europe or elsewhere.
Energy Prices – Energy prices have declined in the U.S. This means both the cost we pay at the pump and prices to heat our homes. Just because things have stabilized here, that's not the case for European countries historically dependent on Russian energy.
Supply-Chain Disruptions – Over the past two years, we've all learned more about the global supply chain and how it didn't work the way economists expected during a pandemic. This caused an increase in the price of commodities, which has been made worse with the conflict in Ukraine. While we can't read the future, these disruptions have significantly decreased, which is good for our economic outlook.
What does this mean for donors? Every donor's economic situation and investments are different. Depending on market conditions, there can be major implications for different planned gift vehicles. The biggest takeaway was for gifts of appreciated stock; when a donor gifts an appreciated stock (one worth more than what they paid for it), they can avoid capital gains taxes. Since many stocks have not performed well over the past year, some donors want to hold onto stocks so the price rebounds. Depending on your donor's portfolio, they may not want to make gifts of appreciated stock right now.
Quick Tips
There were numerous sessions we can't cover in this blog post, but we have some quick tips from a few of them below:
Baby boomers are responsible for 43% of all charitable gifts. Many of them make more gifts and give more money in November and December than other months. Make sure to reach out to these constituents. This is less true for younger donors. 
Donors don't see themselves as annual fund donors or responding to a specific campaign. They are generous supporters—make sure your fundraising communications take these perspectives into consideration. 
Use Google Alerts – Some of your organization's biggest donors and prospects are likely to show up in the news. Set up Google alerts on them and reach out as appropriate when they do. 
Make fundraising volunteer expectations clear from the beginning: "You are committing to… Our efforts are most successful when this happens. When it doesn't it, impacts our organization's ability to succeed." 
Try to limit meetings to 50 minutes. Ten-minute buffers help keep everyone fresh for their next meeting. 
ABOUT THE AUTHOR

Ryan Woroniecki
Ryan Woroniecki spent over a decade at DonorSearch, most recently as the VP of Strategic Partnerships. His team built an ecosystem of the top fundraising consultants and technology companies including Lighthouse Counsel. He helped shape The DonorSearch product, authored the company's first corporate giving program, and designed the integration of wealth screening data in CRMs used by thousands of nonprofits today. He advised hundreds of nonprofits on their use of prospect research, wealth screening, and prospect management practices. Ryan leads Lighthouse Counsel's marketing efforts and helps clients with prospect development. He is a sought-after speaker, having spoken at AFP ICON for APRA-INTL and many places across the country. He is currently pursuing his bachelor's degree at NC State. Ryan has served on the board of AFP-DC, APRA-MD, and The Giving Institute. Ryan currently fundraises for The Giving USA Foundation, one of his favorite organizations.